Monster X is a game-changer in the world of generators! Its powerful battery can provide 2,000W of power output, just like a standard wall socket!  And it packs a massive 1,700Wh capacity, which means all your devices will stay powered for hours and hours, so you'll never be stranded without power. No matter when a blackout happens or when you need to fuel your adventure. Feature 4x fast-charging USB ports, 2x 60W PD USB-C ports plus 4x wall outlets (US or Intl).  Lifetime battery warranty (IGG exclusive)!

The battery of the MONSTER X is extremely dependable. Monster X is equipped with 3C high-rate lithium-ion batteries, which provides higher capacity at the same size.
In the meanwhile, we adopted Tesla's large-rate discharge lithium battery, which can meet the discharge of 3,000 cycles. What's more, a lifetime battery warranty is offered only for you guys on Indiegogo.

Don't be fooled by its size either. This generator is a monster and it definitely has the 'X' factor!  The 1700 watt battery is housed in a tough aluminum alloy casing, perfect for all conditions. It has four regular USB ports, two USB-C ports and four wall outlets on both the international and American models. It can power or charge as many as 11 devices simultaneously which can be easily controlled remotely using the Monster X app.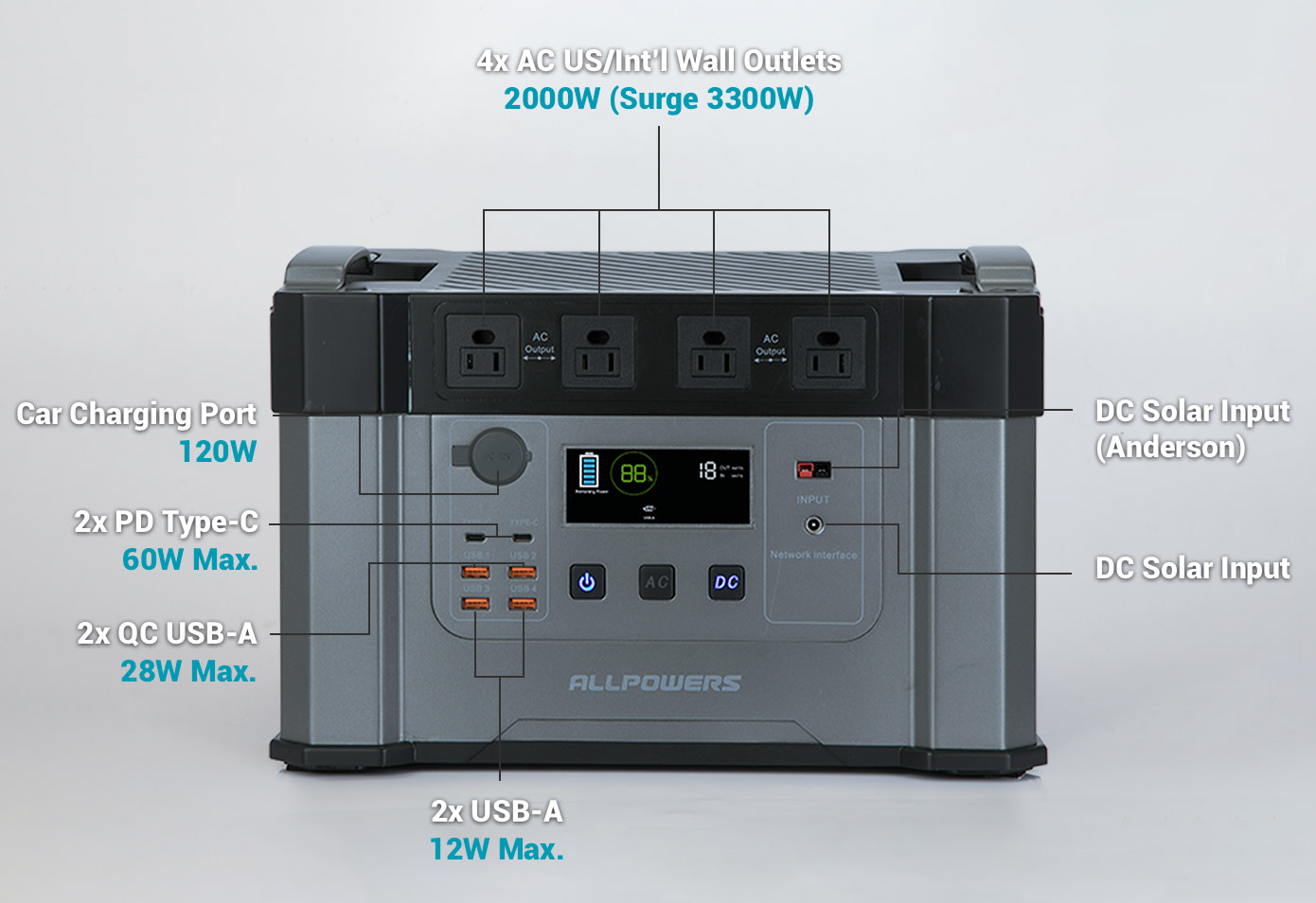 MONSTER X does the work while you just do your thing. It is able to power anything you could imagine. Laptop, electric saw, Refrigerator, or even a Tesla, just plug in whatever you need to power. Charge or power up to 11 devices at once.
You can even use it as an emergency backup for powering your electric vehicles up to 7.5 extra miles on a single charge.  
We designed Monster X with convenience in mind. It is both compact and light weight, so you can take it with you no matter where you go. So if you need to take it out into the woods to power your electric saw, you can.
Most of the good electric saws have between a 10-15 amp motor. Running on 110 volts that is between 1,100-1,650 watts of juice without load on it. That's to say,  you can use the electric saw for an hour outside with MONSTER X. 
For families who rely on medical devices such like a CPAP machine or a medical fridge, a power outage could be a disaster. But with MONSTER X, you're always well prepared for the unexpected.
MONSTER X is equipped with UPS. An uninterruptible power supply (UPS), offers guaranteed power protection for connected electronics. When power is interrupted, or fluctuates outside safe levels, a UPS will instantly provide clean battery backup power and surge protection for plugged-in, sensitive equipment.
The electronic devices you rely on every day for communication, security and entertainment are at risk for damage and failure due to unexpected blackouts, voltage fluctuations or other power disruptions. A UPS provides battery backup power and protection for electronic devices, including: Computers, Televisions, Security systems Gaming consoles, Mobile devices.
Besides, Independent charging and discharging circuit modules allow MONSTER X charge and recharge simultaneously.
You are always well prepared for any power outages with MONSTER X. This is the best backup source for a power outage. It is quiet in operation and maintenance-free. Finally it can give you enough power to run your essential home appliances. Such as refrigerator, coffee maker, electric grill, electric saw or even a Tesla.

MONSTER X can be recharged through 3 approaches: 200W DC, 400W AC, 200W solar input. Through the three input ways at the same time, it can be loaded to 80% in around 1.5 hours, and to 100% in roughly 2 hours.

A major advantage of alternating current is that its voltage can be modified relatively easily using a transformer, which allows power to be transmitted at very high voltages before being taken down to safer voltages for commercial and residential use. Btw, no adapter is needed as well.

The biggest advantage of DC electricity is that it is easier to store, especially on a small scale. Storing electricity when it is made, for use later when it is needed.

Solar power is pollution free and causes no greenhouse gases to be emitted after installation. Reduced dependence on foreign oil and fossil fuels. Renewable clean power that is available every day of the year, even cloudy days produce some power.
MONSTER X has two universal solar inputs which can meet the general standard of all solar installations in the market. Through solar recharging, MONSTER X can be fully charged within 6 hours, while staying green, healthy and productive.

Powered by the force of Nature, MONSTER X is compatible with any solar panels or installations in the market. Under perfect sunlight and 200W solar input, it can be fully recharged in about 6 hours.
With MONSTER X, you can power everything you need in daily life and work in case of a blackout, or you can go off the grid. Back up your home with a portable solar panel, or directly hook it up with solar installations on the rooftop. MONSTER X can be the reliable generator in an emergency, or the qualified assistant to help you fulfill a green and healthy life.

Maximum power point tracking (MPPT) is a tracking technology in electronic form. It uses algorithms and controls circuits to search for the maximum power point, so that the converter circuit can obtain the maximum power from the cell module.


Both MONSTER X's battery and structure are very powerful. The 1700Wh battery pack is reinforced by aluminum alloy structure, and protected by ABS+PC shed. You will never need to be concerned when you move it or carry it around.

The battery of MONSTER X is reliable and endurable. You could always rely on it. Over a dozen international certificates and safety features ensure the reliability and endurance, such as: Short-Circuit Protection, Battery Overcharge Protection, Output Overcharge Protection, Harsh Temperature Protection and so on.

An intelligent BMS protects your MONSTER X from power surges and overheating, monitoring and alerting you of any sharp changes in temperature.
MONSTER X owns lithium-ion batteries (6 in series), and its state-of-the-art BMS can take full advantage of all series. It can protect any single series from taking too much or too little, so as to maximize the batteries' lifetime and performance.
The smart power management system and its sidekick App, through bluetooth, allows you to monitor the Monster X battery whenever. and wherever. You can also turn the outputs on or off as needed.

Our solar panel is made of waterproof oxford cloth and is able to be folded into a smaller size, which makes it more durable, more portable and even lighter. To reach a higher Solar Energy Conversion Rate (22%-25%, much higher than the average rate of 15%), we selected a premium-grade panel and the finest cloth.



ALLPOWERS was founded in 2008. We are a team composed of experienced designers and engineers with a mission to bring the best power products to everyone. In the past 10 years, we've devoted ourselves to R&D of power products. Based on our professional engineering experts and reliable supply, we are able to create and produce best-in-class products that everyone can enjoy.
ALLPOWERS in CES 2020
MONSTER X is the second campaign we've launched on IGG. We've been rolling out best-selling electronic products for years, like the latest IGG campaign of "Monster: Smartest, Fastest Portable Power Station" which was well delivered thanks to our backers' support and trust. At the same time, we've also helped other brands to design and manufacture.
Our First Campaign on Indiegogo
To maintain the best safety and reliability of our products, ALLPOWERS has passed dozens of international certificates and approvals including CNAS, TUV, FCC, CE, ROSH, SGS, ErP, PSE and UL.
ALLPOWERS in CES 2020
We have spent months developing, testing, prototyping, and even completing the molding before the campaign started. We sincerely invite you to back us to start mass production. For early backers who support us on IGG, you will receive our earnest gratitude and thoughtful post-sales service.
The Team has shipped Monster X out to all over the world since October 2020 gradually, here are some pictures of the package and loading. Shipping status will be updated continuously with more and more Monster X shipped out, we appreciate all Backers' love and support of Monster X! Please stay tuned!